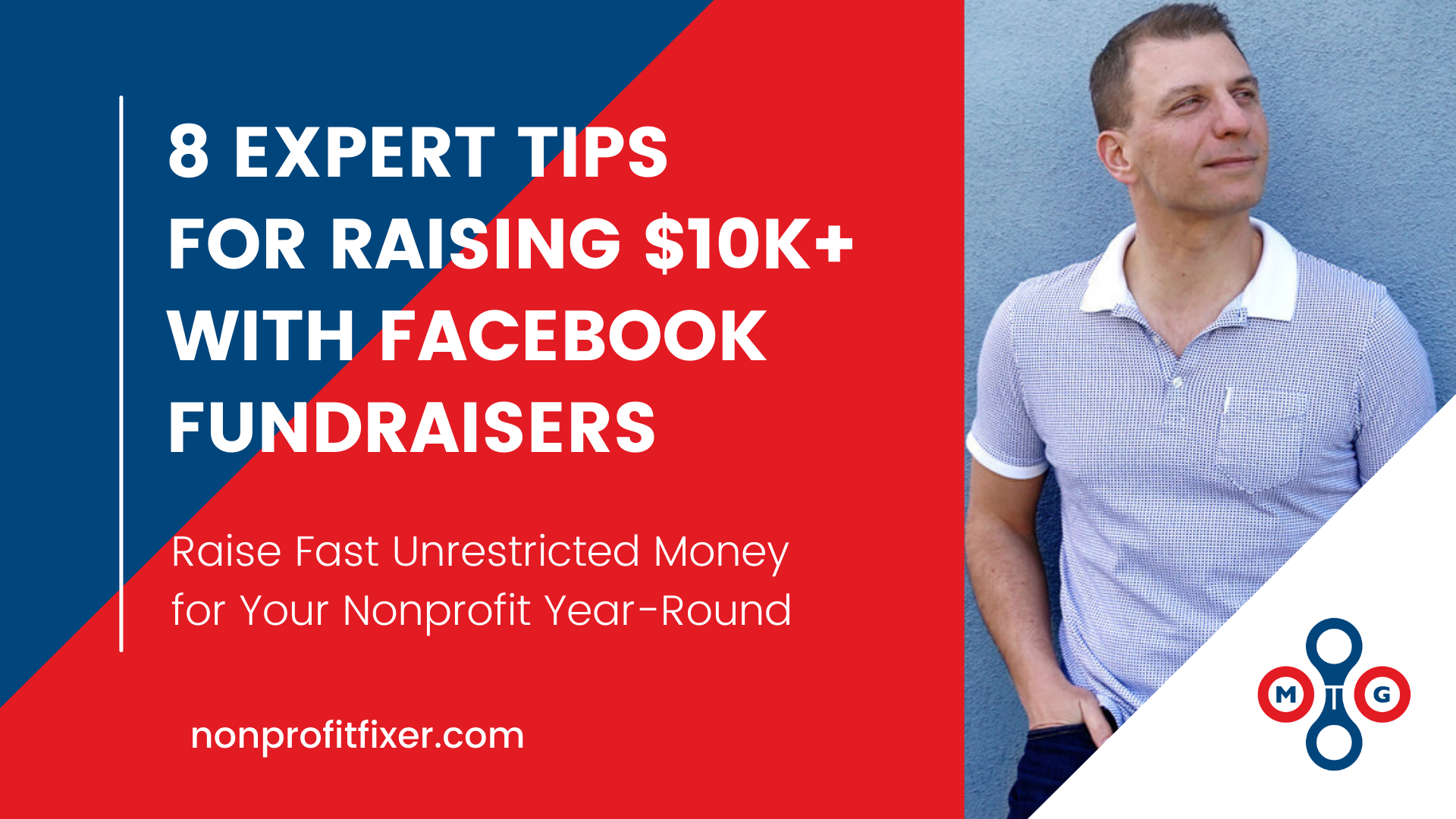 For many years nonprofits could not figure out how to raise money on social media. Facebook Fundraisers have cracked the code. Billions of dollars have been raised on this platform in just a few years. You can raise money for individuals or charities.
Facebook Fundraisers are an amazing way to bring in quick unrestricted money for your organization, even if the organization has no followers. Why? Because these fundraisers rely on the network of your supporters, not your organization. Facebook Fundraisers are a powerful, easy, and fast way to get money in the door.
This course shows you how to run Facebook Fundraisers, but it also shows you how to run Facebook Campaigns - 10 or more Facebook Fundraisers at once.
However, it is VERY easy to do Facebook Fundraisers wrong!! Don't make mistakes. Watch this webinar to learn the "8 Expert Tips to Raise $10K+ with Facebook Fundraisers."

What You Will Learn In this Course
Step-by-Step instructions for how to get your nonprofit's Facebook Page set up to receive donations
Step-by-Step instructions for how to set up your first fundraiser, successfully
8 Expert Tips that are proven successful every...single...time.

Exactly who to invite to your fundraisers
How to set your timing and financial goals for the fundraiser
How often to post (it will surprise you)
Why you don't need even any followers to make money
How to use the algorithm in your favor
Why Facebook's limitations are actually a benefit to you
The one trick that will skyrocket the number of people who see your fundraiser
Why you shouldn't bother encouraging "sharing" fundraisers

Much more
Plus you get email support from me!
AMAZING BONUS Downloadable Resources in the Course:
Resource Guide with step-by-step instructions to set up your FB page, your fundraiser and FB campaign
Master Tracking spreadsheet for full campaigns of many fundraisers
InfoGraphic for your website to invite people to run these campaigns
5 ways to use your FB Donate button to raise money year-round (infographic)
Free PDF of the course slide deck with all 8 tips
30 Sample posts for your fundraiser
Sample posts from an actual nonprofit that ran a "Facebook Campaign"
Thank you image when the fundraiser is done
Sample text to send to people running Birthday fundraisers for you
Sample welcome email to your volunteer fundraisers when running a campaign
Free Sample Recruitment email to invite people to help you
Charities hire me to run Facebook Fundraiser Campaigns (15 fundraisers at a time) which normally bring in about $15K. Contact us for more info [email protected]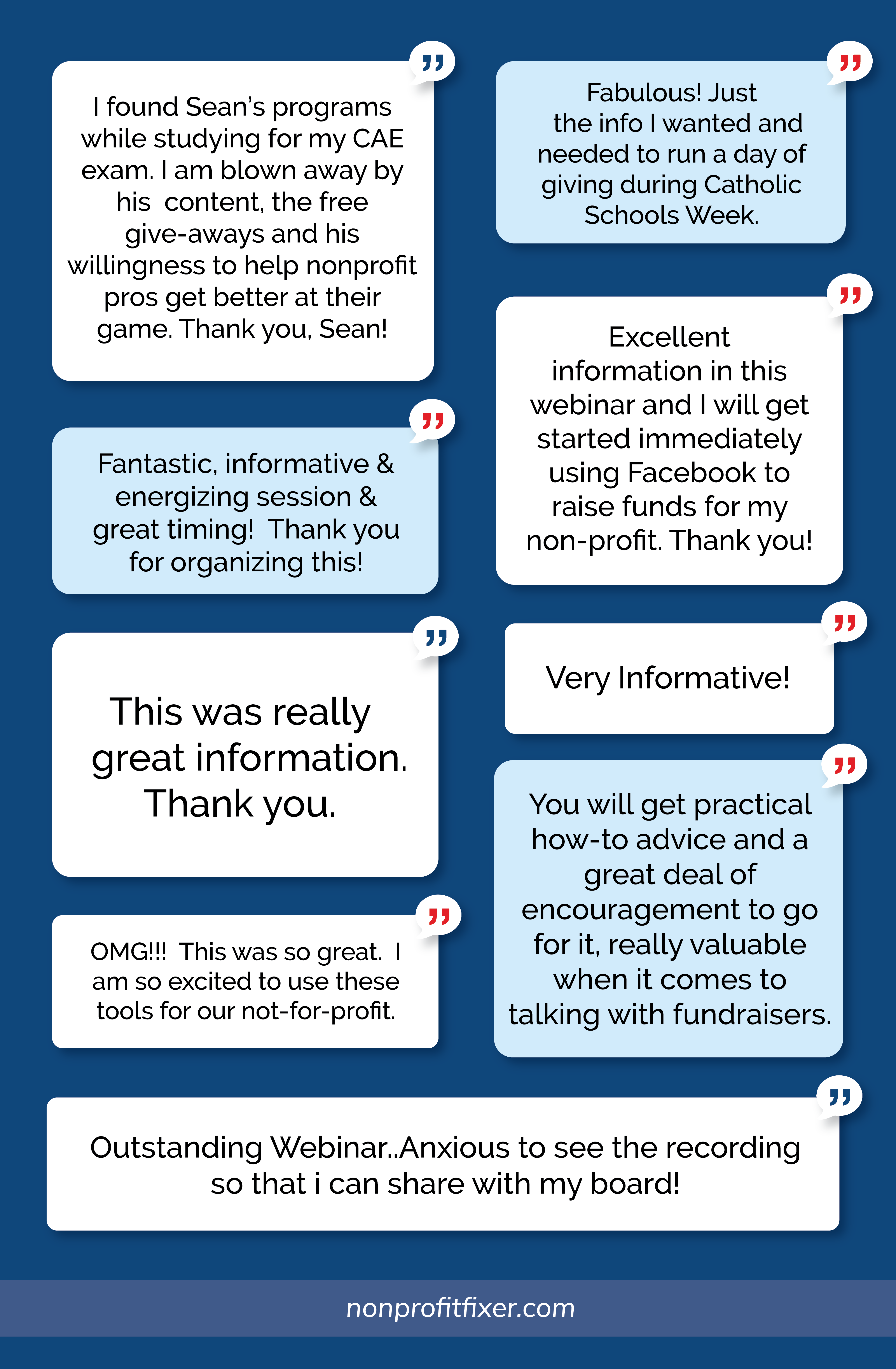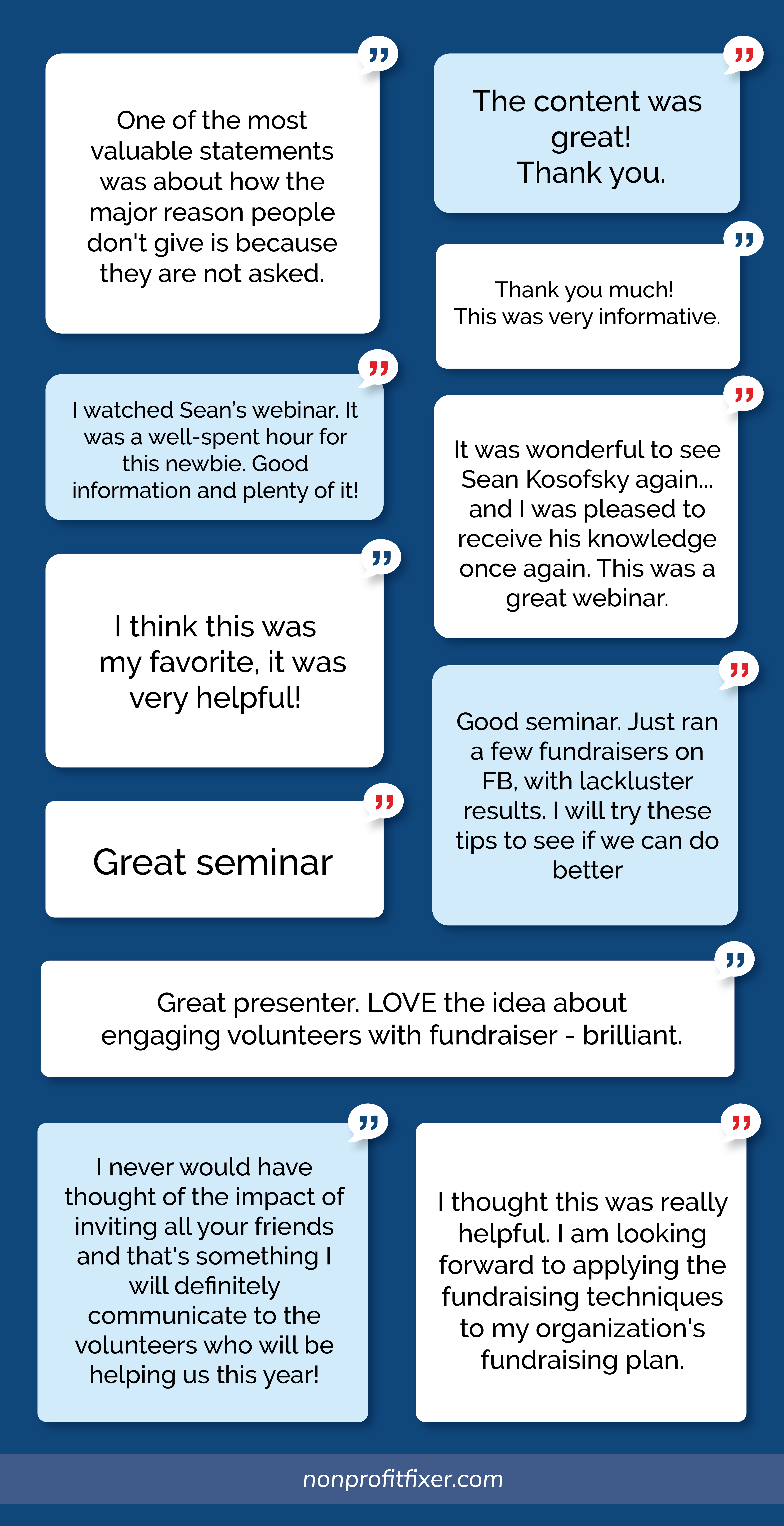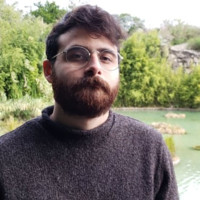 Although I work with an organization that has benefited from one of the most successful Facebook fundraisers, I am walking away from Sean's webinar feeling much more confident and with several concrete steps to refine our Facebook fundraising processes. I would highly recommend this training!"
-Daniel J. Michaels, Development Assistant

RAICES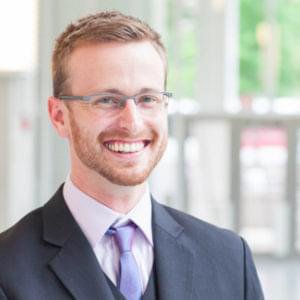 He knows what he's doing. He ran our Facebook fundraiser and said that he could bring in nearly $10K and he did exactly that. He's available, he's competent, and he delivers. I can't think of anything else I would want more in a consultant.
Jack Beck, Executive Director
TurnOut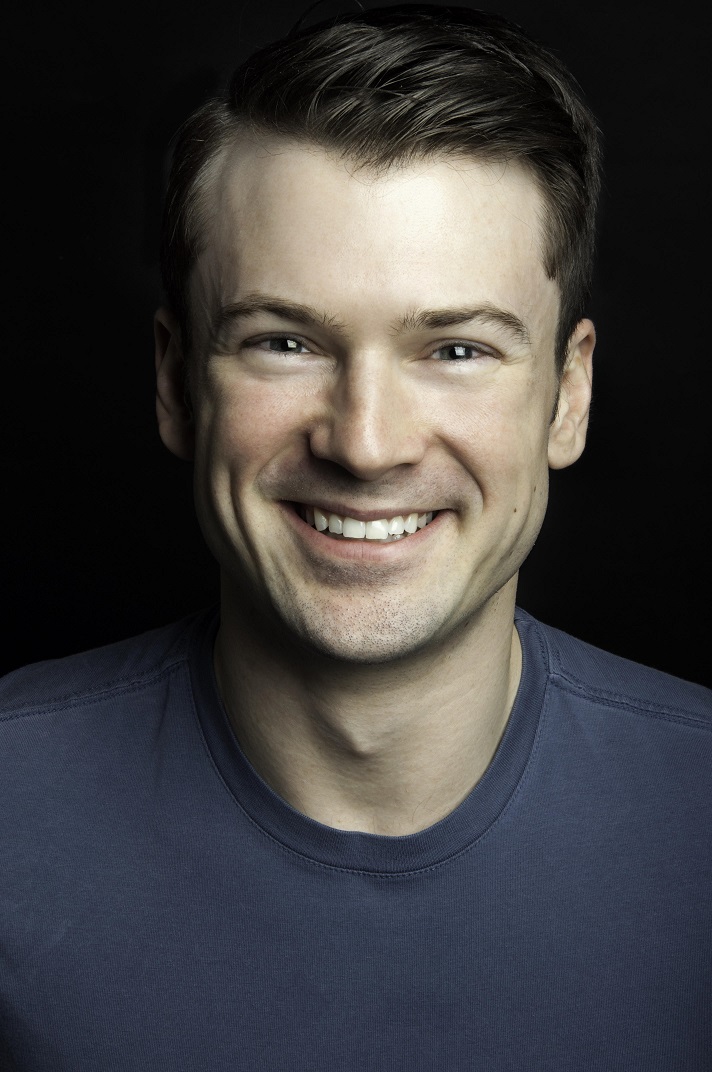 I had set a pretty ambitious goal for my first time in NYC's largest, annual Broadway fundraiser. When incoming donations began to plateau, I reached out to Sean, having heard of his success moving people to act.
He recommended his convenient 20 min Facebook fundraising tutorial. Immediately, I acted on every step of his course and was shocked to see an instant spike in giving. After having met my first, scary fundraising goal, I decided to RAISE it and continued to use Sean's methods to reach my second, larger goal. The success of his expertise has made me eager for the next opportunity to raise money for a cause.
-James Monroe Števko, Fundraiser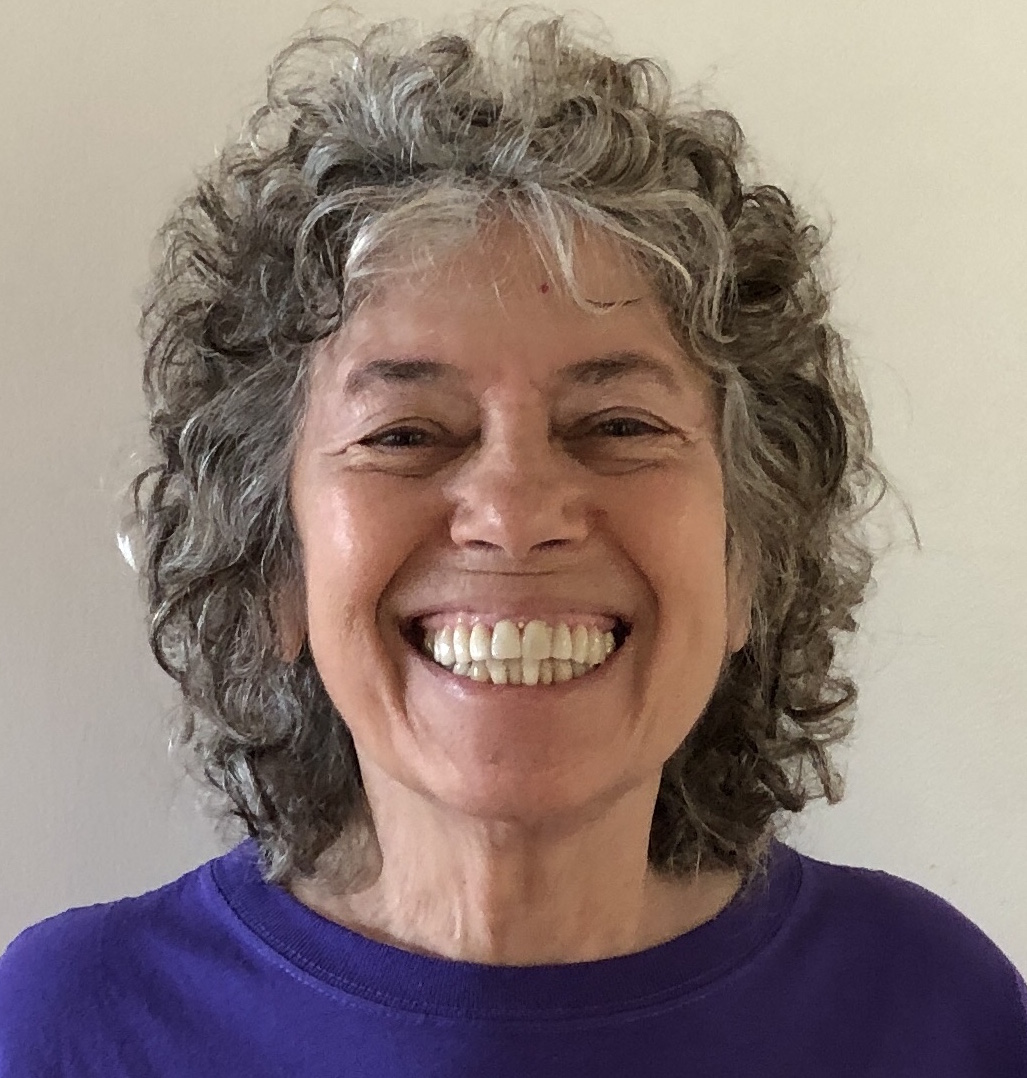 Sean's Facebook Fundraiser training was extremely useful and practical for Kidpower. His concrete tactics will help us engage volunteers to raise money for us year-round in every part of the country.
-
Irene van der Zand,
Executive Director and Founder
Kidpower Teenpower Fullpower International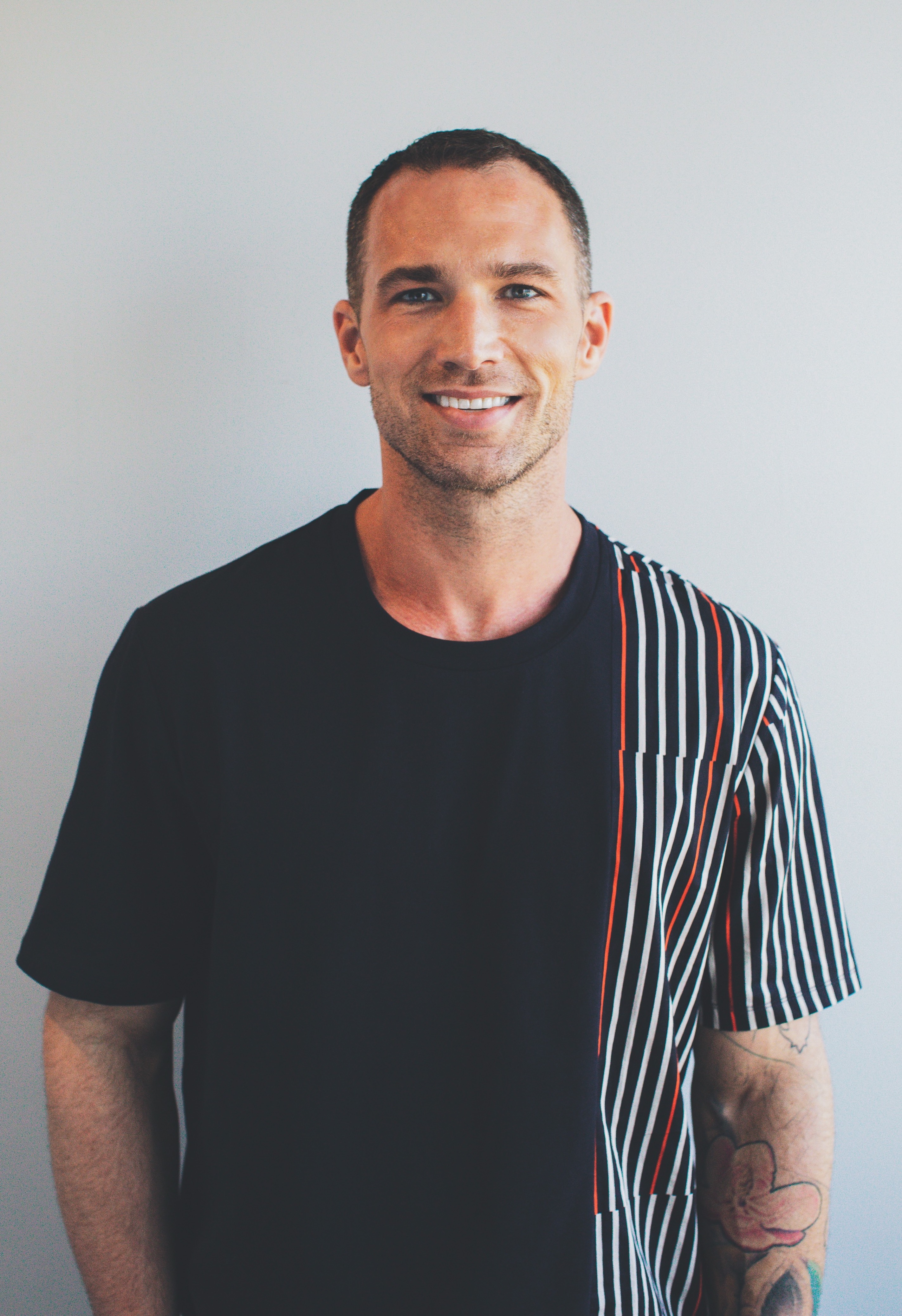 Sean's expertise with Facebook fundraising and how to motivate people helped us raise $45,000 on the platform over the last two years. Plus, his system of motivating fundraisers will help with any future fundraiser or event!
Rob Williams, Development Director
Camp Lightbulb
I found Sean's programs while studying for my CAE exam. I am blown away by his content, the free give-aways and his willingness to help nonprofit pros get better at their game. Thank you, Sean!
Mary Connor, Co-founder,
21GO Communications
Course Curriculum
Facebook Fundraiser - 1 Module
Available in days
days after you enroll
Your Instructor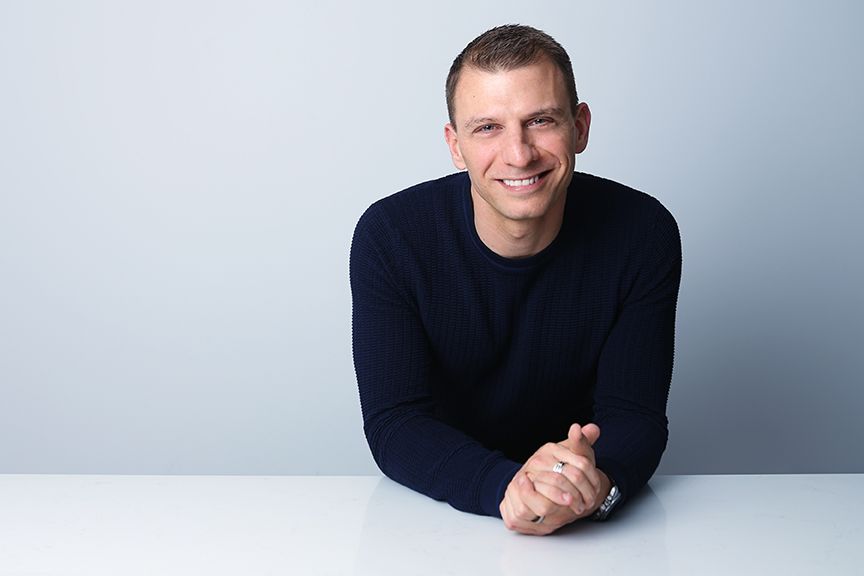 Hi, I'm Sean, and I'm the Nonprofit Fixer!
I've worked in nonprofit organizations since I was 16 (over 28 years).
I'm a coach, consultant and course creator helping to transform nonprofits and their leaders.
I love nonprofits. I study nonprofits. I also lead and fix nonprofits. Whether it's local, state, or national - or charitable or political – I have helped grow and develop organizations of all kinds. I've served as an Executive Director for 5 organizations. I am a coach and consultant for boards, executive directors, and activists of all stripes. I've worked in communications, victim services, civil rights, environment, policy, bullying prevention, lobbying, management, and much more.
I learned how to run a nonprofit the hard way – by watching someone do it poorly. I've also been thrown into the deep end and told to sink or swim. I don't want that to happen to anyone else, so I have made it a commitment to my business to train people on how to effectively fundraise and manage organizations for maximum impact. I'm nationally known and respected, and I'm a really swell guy (just wait, you'll see!).
Best of all, I cut through the BS. My tools and trainings are straight-to-the-point, immediately useful, and chock-full of tips and tactics you can start using today.
I have raised money for a wide variety of causes, community projects, political campaigns, and much more. He is a published author of "Fundraising Power Pack"

I live in New York City with my husband Travis and my adorable dog, Harry!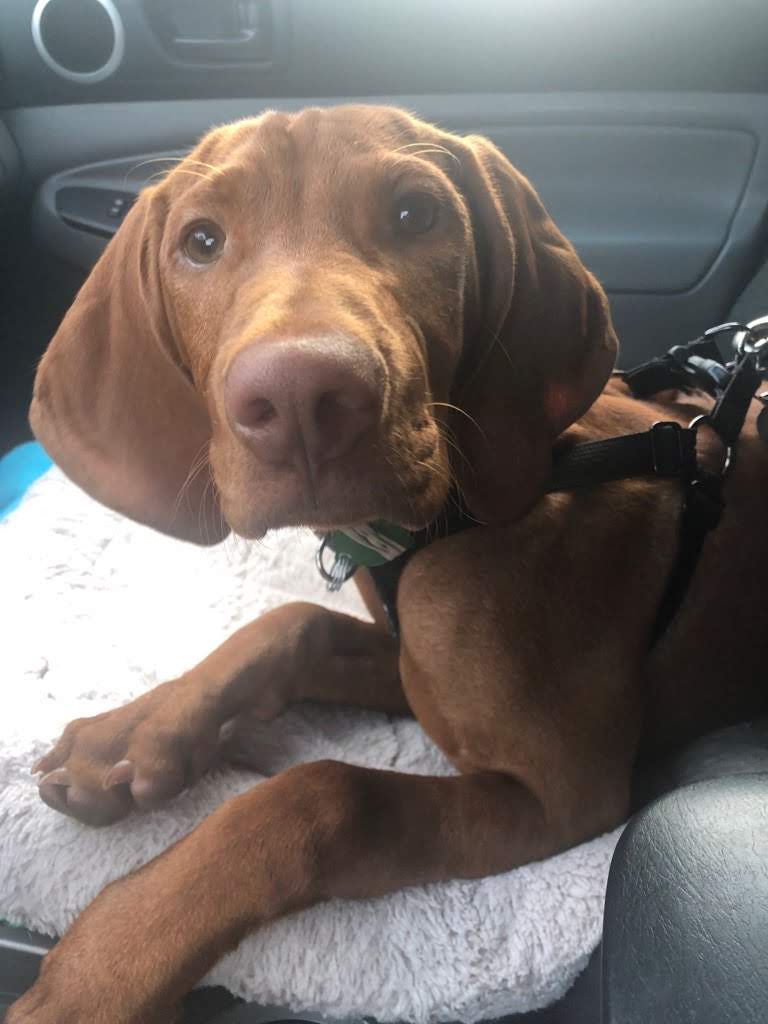 Frequently Asked Questions
When does the course start and finish?
The course starts now and never ends! It is a completely self-paced online course - you decide when you start and when you finish.
How long do I have access to the course?
You have 1 year to complete the course. I want you to get results and you want to get results. If I give you lifetime access you may never take the course. You have 12 months so get to it!!
What if I am unhappy with the course?
I don't want you to be unhappy! You have 10 days in your trial to ask for a refund if you are not happy with the course.